About GS1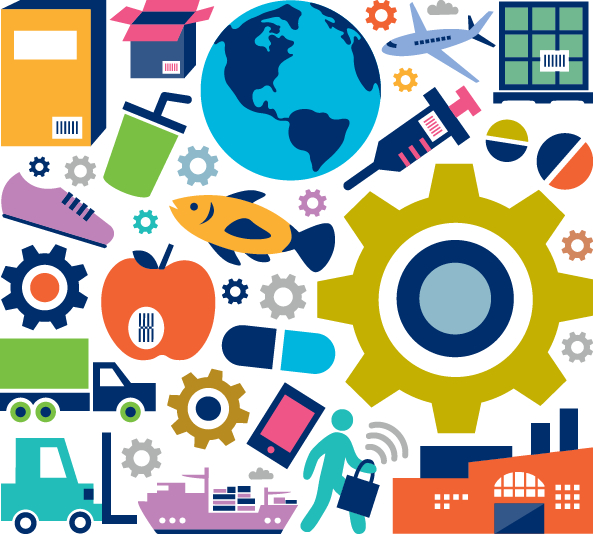 Business is easier when you speak the same language as your customers, suppliers and partners.
We all do things our own way. But although these differences help define an organisation's identity, they can cause problems when we work together.
That's where GS1 can help.
No matter what success looks like for you, being able to identify, capture and share information is vital to achieving it. Our standards provide a common language through which your organisation or business can do this.
We work with enterprises of all types and every imaginable size.
And although we believe in healthy competition, in some areas cooperation is more important. That philosophy directs how we're structured and ensures we work together to agree standards that are right for our members
To understand more about GS1, learn how the barcode led to everything we do today.
GS1 Story
It all began with a barcode

Beep! On 26 June 1974, a packet of chewing gum became the first barcoded product to be scanned in store. Today, barcodes play a crucial supply chain role, ensuring products hit retail shelves at the right times.
We manage the barcode standard used by retailers, manufacturers and suppliers. If you want to put a barcode on an item that can be scanned anywhere in the world, you need to talk to us.
But although our story started with the barcode, our standards have evolved to reflect and influence the world in which we live and work.
They boost efficiency in many sectors, from retail and health to transport and logistics. Always working for our members, we're opening doors and driving down the costs of doing business.
See how we got here See our Annual Report
GS1 and Government
Supporting governments, achieving policy goals
Gs1 introduced the barcode in 1974. We are a global, neutral, non-profit standards organisation that brings efficiency and transparency to the supply chain. Our standards are proven by industry and can help you achieve your public policy goals.
Designed by consensus, our standards are proven, open and benefit from collaboration with respected global companies as well as local SME's. GS1 tools help organisations exchange critical data - from manufacturing all the way to the consumer - creating a common language that underpins systems and processes all over the world.
GS1 is engaged with governments across multiple sectors and geographies.
Who we work with
Over 2 million members
We work with organisations of every size. Over two million are part of GS1 — from international household names to small, local businesses.
GS1 - making a difference over 5 billion times a day
How GS1 is run
GS1 is funded and governed by its members, so everything we do is in their interests.
Careers
We offer a dynamic and challenging job with career possibilities in a growing organisation. A worldwide scope of action. Competitive salary and benefits.